Community Movie – 6 Seasons and a Movie
 Joel McHale and Ken Jeong will be acting together again!! 
NBC's streaming platform, Peacock, announced today that the  Dan Harmon comedy "Community," would return as a movie. #SixSeasonsAndAMovie
As part of the deal, Peacock has also acquired non-exclusive rights to the full six-season "Community" library, which can also be found on Netflix and Hulu.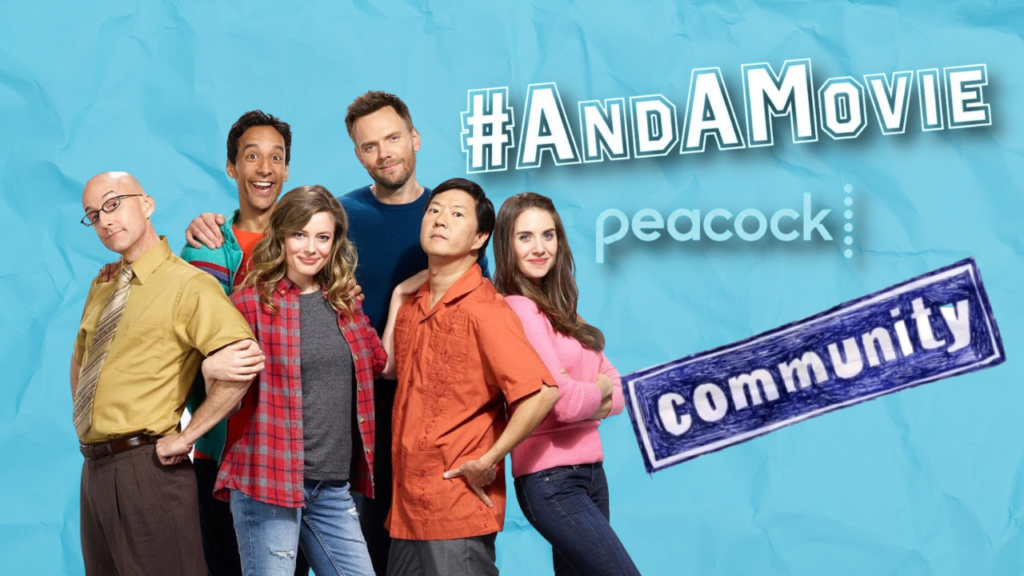 The confirmed cast will be coming back: Joel McHale, Danny Pudi, Alison Brie, Gillian Jacobs, Jim Rash, and Ken Jeong.
There is no word on if Donald glover will be coming back for the community movie. 
The Community movie release date hasn't been revealed yet but we do know it will be in 2023
Susan Rovner, chairman, entertainment content, NBCUniversal Television, and Streaming said that 'Six seasons and a movie started out as a cheeky line from 'Community's early seasons and quickly ignited a passionate fan movement for this iconic, hilarious, and cool (cool, cool) NBC comedy.." …. "We're incredibly grateful that 15 years later, we are able to deliver fans this promised movie and can't wait to get to work with Dan Harmon, Andrew Guest, Joel McHale, Sony and our partners at UTV to continue this epic comedy for Peacock audiences." 
Community first aired in 2009 and went five seasons until it was canceled. Yahoo picked up the show for a final sixth season after a massive fan push. 
The show ultimately caused Yahoo to stop its own streaming platform but was still a fan favorite. 
In the last seasons of the episode the words… "And a Movie" appeared which played on a series long joke that they would do six seasons and a movie.
Currently, you can watch all six seasons of "Community" on Netflix but there is no word on if by 2023 the show will be leaving all other platforms for Peacock.
Below we break down everything we know about the Community movie.